Pet Stop offers a variety of packages
Our Pet Stop® products are 100% Made in the USA and loaded with features not offered by any other brand
Why Choose Pet Stop Brand®
The Pet Stop Brand of Pet Fence Dog Fencing Systems differentiates itself from it's competitors by engineering and offering a number of patented features making Pet Stop the Most Advanced and the Most Humane pet fence product on the market. In addition, our unique Gentle Steps training experience that has been proven to more quickly teach your pets their boundaries.
UltraCare
Our competitors offer some sort of warranty to cover manufacturing defects, but only Pet Stop® offers UltraCare! This exclusive warranty goes above industry standards by offering not only a lifetime warranty against manufacturing defects, but also protection against accidental damage.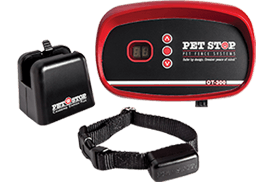 EcoLite System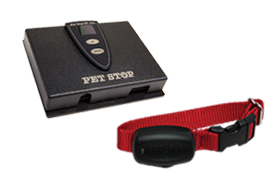 UltraElite System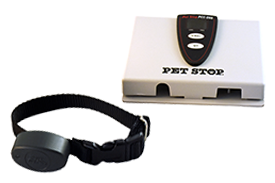 PCC-200 System
EcoLite's environmentally friendly built-in rechargeable power pack lasts up to 25 years. Now you'll never have to worry about running out of costly batteries. It's incredibly small and lightweight, weighing just under an ounce. EcoLite's small size makes it the ideal choice for small dogs. But, just because they're small doesn't mean we crimped on features. Each receiver has a full range of programmability, including GentleSteps™, Pet Stop's® exclusive training approach that reduces stress and makes training easy and effective.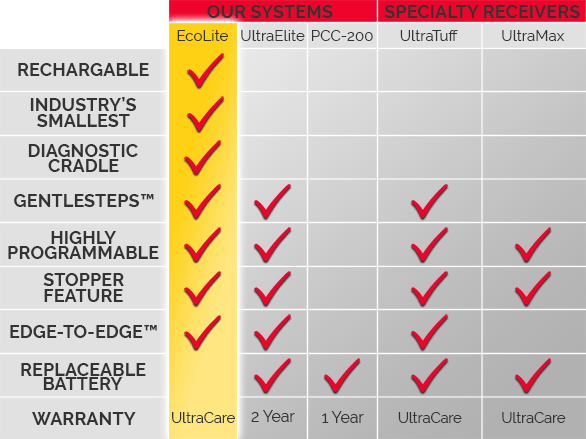 Pet Stop® Pet Fence Systems Receivers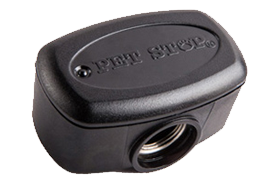 UltraTuff Receiver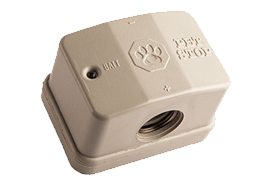 UltraMax Receiver
The only receiver built to take everything a dog can dish out! You count on your dog's fencing system to provide safety for your dog and peace of mind for you. That's why only Pet Stop® protects our sensitive electronics with the industry's toughest, most durable case constructed with a special blend of thermoplastic. With twice the wall thickness of lesser fencing systems, Pet Stop® provides superior chew resistance, protection from water, dirt and all the tortures that come with hanging around with your dog in the rough and tumble world he lives in!
Pet Stop® Pet Fence Systems Batteries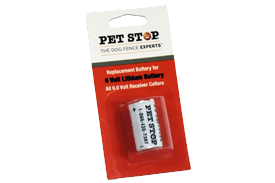 Pet Stop® Replacement
Batteries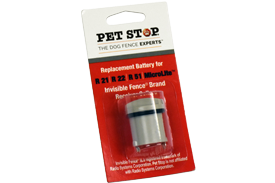 Invisible Fence® Replacement Batteries
Pet Stop® replacement batteries are innovative, little marvels of technology that work flawlessly with the receiver collar. They're ranked the highest on the market in durability and performance, and they are relatively inexpensive when evaluated next to batteries from companies such as Invisible Fence®, DogWatch®, PetSafe® and the rest.
Pet Stop® Pet Fence Systems Accessories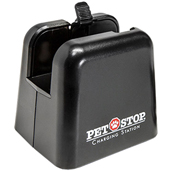 Charging Cradle for
EcoLite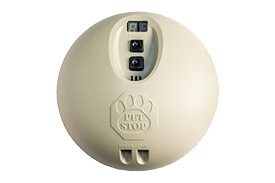 RoomWizard™ Indoor Transmitter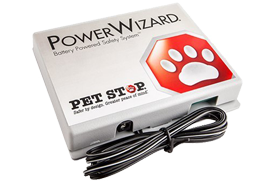 PowerWizard™ Outage Protection
The included Charging Cradle fully charges an EcoLite receiver within 3 hours. An internal LED will let you know when charging is complete. Available in standard or diagnostic versions. Diagnostic Cradle checks the receiver for functionality and will alert you if your EcoLite is in need of service.
Now there's Link™
App available soon through Google Play Store and the Apple App Store
With Link you'll have access to real-time information at your fingertips and so will your Pet Stop Dealer.